Use recurring jobs in Huskey Practice Manager to make sure you never miss a deadline. Here is a quick outline of how to set up a job.
Add a New Job Template
From the My Jobs box on the dashboard click MANAGE JOB TEMPLATES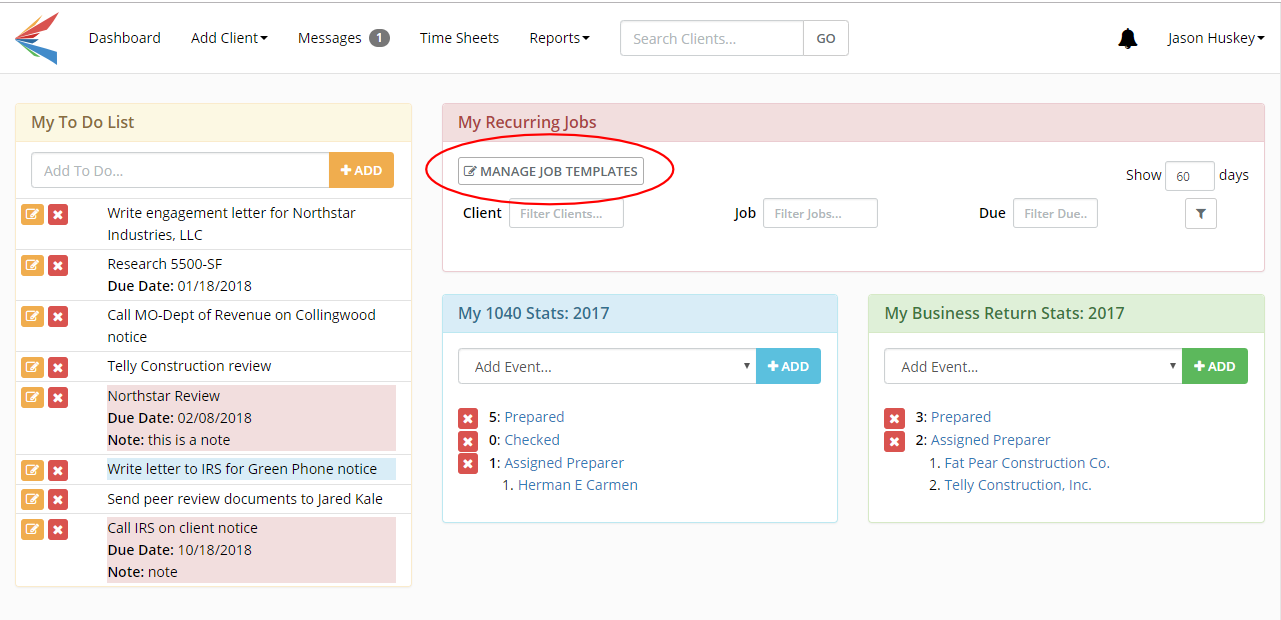 Click ADD JOB TEMPLATE

Type in a job name and then click ADD RECUR RULE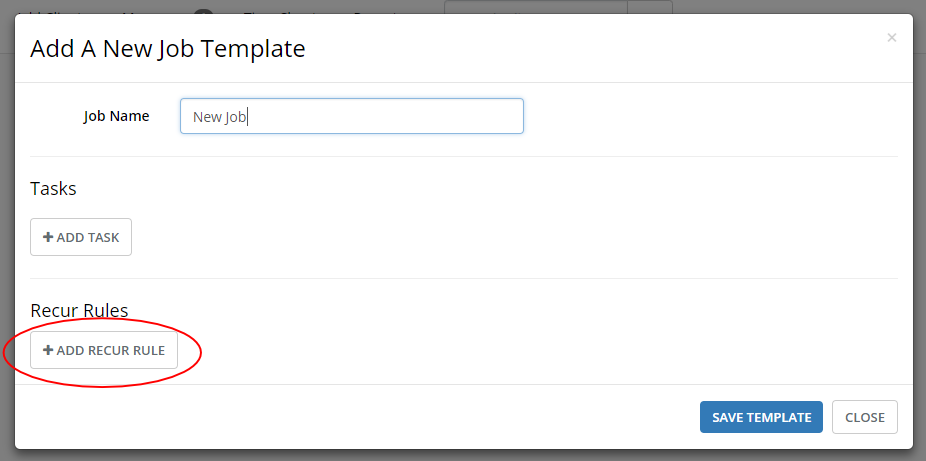 We will set up a job that recurs monthly on the last day of the month.
For the 1st Due Date it is a good idea to choose a date from the recent past. The actual first due date will be determined when you assign this job to a client.
Select
Repeats: Monthly
Repeat every: 1 month
Repeat by: Last day of the month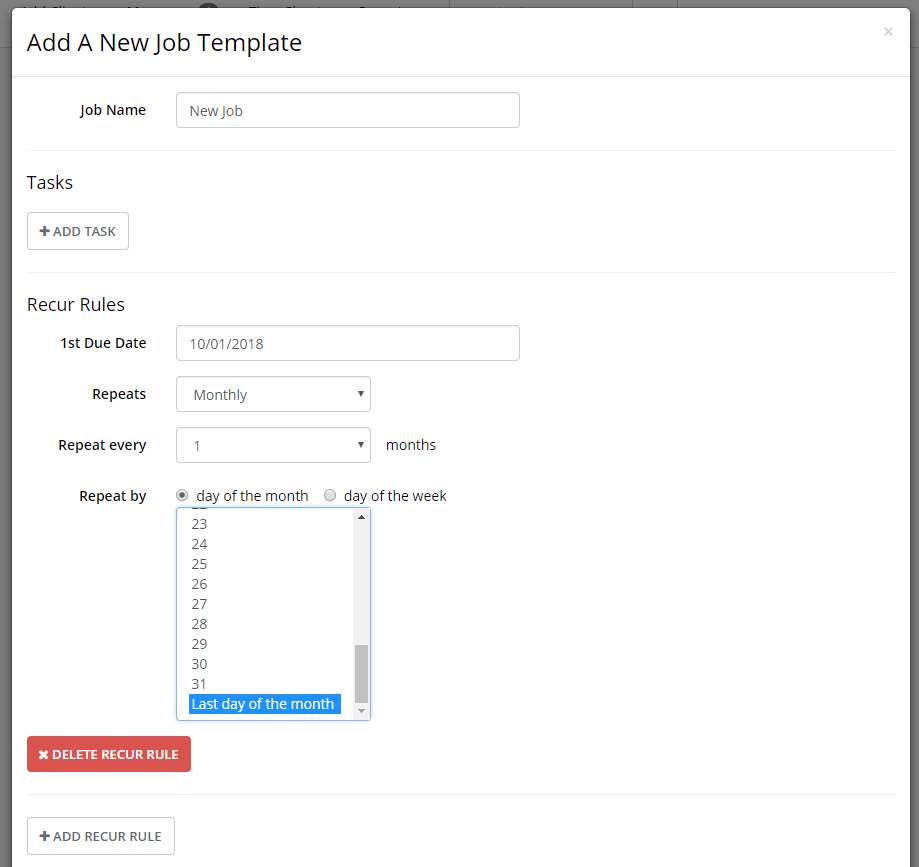 Always remember to click SAVE TEMPLATE

Assign the job to a client
You have now created a job template and the next step is to assign it to a client.
Find the client to whom you want to assign the job and go to their page.
Click ADD RECURRING JOB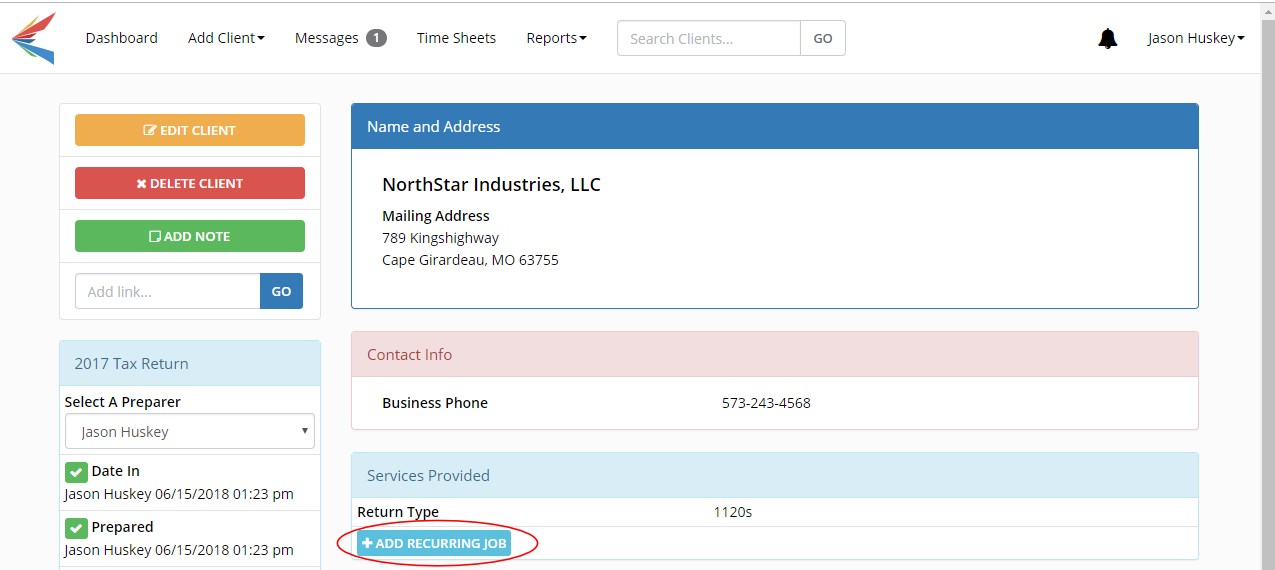 Select one or more jobs to add to the client, choose the person assigned to those jobs, and click SAVE JOBS.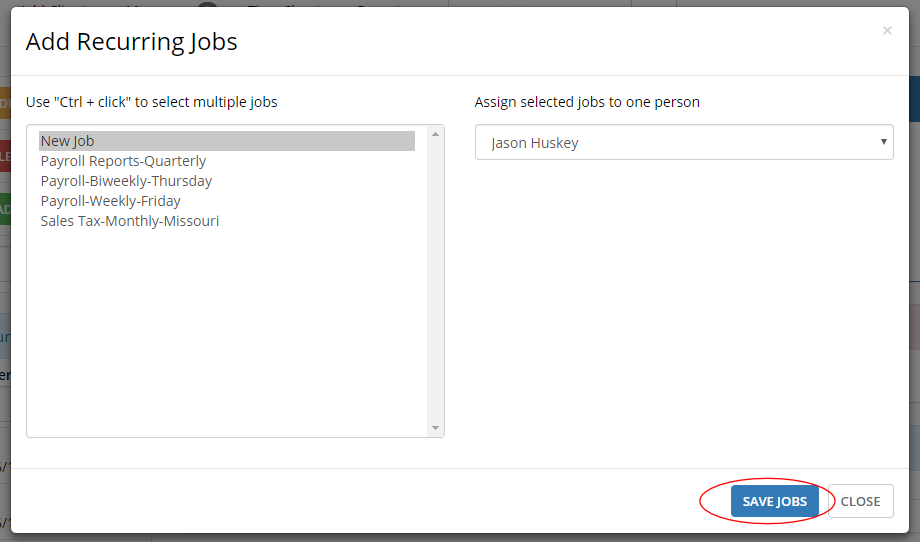 The Services Provided box will show the job you just added. If you need to re-assign the job click the drop-down and choose someone new.

Go back to your dashboard and you will see the newly added job. If you don't see the job it may be too far in the future. Try changing the number of days that should be shown by typing a new number in the box and pressing the ENTER key.

To mark a job as done click the red square button next to it. It will then disappear from your dashboard. But you can always find it in the Jobs Report.
Jobs Report
To find this report click the Reports menu and choose Jobs.

This report will default to showing jobs in the current month. You can always select a different date range. But any past due jobs (even from prior periods) will always show at the top with their due date in red. This will keep you from overlooking past due jobs.
To narrow down the report just start typing in any of the filter boxes.

Learn how to set up other types of recurring jobs:
Add a Biweekly Payroll Job
Add a Quarterly Recurring Job
Complex Recurring Job Example